There are so many types of goldfish breeds available nowadays, all which are produced from generations of selective breeding which started in China more than a millennium ago. Do you know that all these varieties originated from the same ancestor? Yeah, they all came from the common goldfish or feeder goldfish as some of us would refer them as. Isn't that amazing?

Goldfish breeds can be categorized by many different characteristics but for today, let's just focus on their shapes i.e. their body types and understand how this can affect our goldfish keeping.
The shape of you…
Some of the different characteristics that the goldfish are being bred for are their bodies, colors, heads, tails, eyes, fins, and scales. Out of these characteristics, I think the simplest one to understand is their shapes.
There are only 2 body types of goldfish breeds. Let's call them the slim ones and the rounded ones.
1) The slim ones
The slim ones have this shape that is referred to as streamlined body type. As per the meaning of "streamlined", their shape presents very little resistance to the flow of water, very much like a flat bodied torpedo.
This shape enables them to be really fast and strong swimmers. When being an effective swimmer combined with goldfish's natural gluttony, these breeds are the force to be reckoned with when it comes to feeding time. Those fancy pancy rounded ones stand no chance.
These streamlined body type goldfish breeds are also said to be hardier than their rounded counterpart. They are less demanding in terms of water quality and temperature.
They can grow really big i.e. over 12 inches in length. So they need plenty of space.
Goldfish breeds that are of this body type are more simple. They do not have so many variations on the head, eyes or scales. They do come in single tailed and double tailed varieties though. Some examples are common goldfish, Comet, Shubunkin, Wakin and Jikin.
2) The rounded ones
The rounded ones come in so many characteristics variations on their heads, tails, eyes, fins and scales, but they all share an egg-shaped body type. This egg-shaped body is what makes them oh so cute, and together with their wobbly swimming styles, you just can't help but be smitten by how adorable they are.
Due to their egg-shaped body, they are not fast or strong swimmers. This gives them a huge disadvantage when competing for food with faster swimmers in the same tank. Although they can grow very big as well, they tend to not match the potential of their streamlined body type counterpart.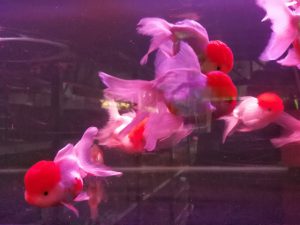 This egg-shaped body types of goldfish breeds are also more fragile and demand better water quality and care. Due to their rounded shape, their swim bladder is often distorted. If kept in bad water conditions or bad feeding habits, they are susceptible to the swim bladder disease which causes buoyancy issues.
Some of these goldfish have distinct features that need extra care as well. An example is the Bubble Eye goldfish which have upward facing eyes with large fluid filled sacs attached. Extra care is needed to ensure that these sacs are not torn by any objects or inhabitants in the tank.
The slim ones vs the rounded ones
A quick summary on how these 2 body types of goldfish breeds compare to each other based on the following 5 questions:

| | The slim ones | The rounded ones |
| --- | --- | --- |
| What body shape is that? | Streamlined | Egg-shaped |
| Are they good swimmers? | Fast & strong swimmer due to their streamlined body type | Slow swimmer due to their egg-shaped body type. Tend to wobble when swimming. |
| How big can they grow? | Potential to grow to average 12" in body length. | Potential to grow to average 6" in body length. |
| Are there many varieties? | Based on single or double tailed. | Many varieties based on distinct features on the head, eyes, dorsal fins, tails, scales, etc |
| Are they easy to care for? | Hardier than the rounded ones. However they still need to be provided with enough space and proper care. | More demanding in terms of water quality & specific care for different varieties. Also require enough space. |
So how do these affect our goldfish keeping?

With the understanding of the different characteristics of these types of goldfish breeds, hopefully we can consider the following when keeping them:
1. Slim or rounded, they need their space

Whether it's the slim or the rounded ones, goldfish in general need to be provided enough space. In spite of what people may say, they do not grow to their tank or container size. The slim ones can grow up to over a feet long, and the rounded ones are just slightly smaller than that.
A good guideline to follow when stocking goldfish is 20 gallons for the first fish and 10 gallons each for subsequent ones although the streamlined bodied ones can use much bigger space, like a pond.
2. Fancy pancy rounded ones are a demanding bunch
Those rounded ones are fragile and more susceptible to swim bladder complication and diseases. They are not as forgiving as the slim ones on water quality.
On top of that, some of them come with distinct features such as huge growth on the head, pearl-like scales or huge sacs below the eyes that need additional considerations in terms of care. So they can be challenging to keep for beginner fish keepers.
Anyhow, although the slim ones are hardier than the rounded ones, they still require good water quality and proper care to thrive. So having a good filter and regular maintenance are important no matter they are the slim ones or the rounded ones.
3. The slim ones always triumph over food

If these 2 types of goldfish breeds are kept together, the slim ones which have streamlined body will always get to the food first as they are faster swimmers. If this is not managed well, your cute rounded goldfish with egg-shaped body will end up not getting enough food and nourishment.
If you are thinking that you can just dump in a lot of food so that the rounded ones can get the leftovers, please rethink that. Over feeding is one of the main reasons of goldfish deaths.
So the best approach is to not keep them together.
In my future posts, I hope to cover the different goldfish breeds in more details. Each breed has their own distinctive combination of characteristics which make them interesting but may come with some specific demands.
So is there any specific goldfish breed that you will like to know? Give me some ideas on which breeds I should be writing about by leaving your comments below. If you have any other comments or experience to share, please leave them below too! Looking forward to hearing from you!