What do you know about common goldfish?
Perhaps you know them as those prize giveaways from carnivals or fun fairs that you have been to, or… maybe you know them as those cheap fish that you buy in bulk to feed your big, expensive and exotic aquatic pets.
Yeah, they are indeed perceived as the lowest class in the goldfish world, and maybe in the whole ornamental fish world as well.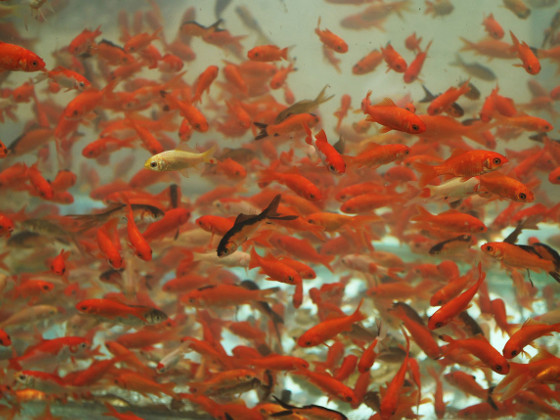 However, we either do not know this about common goldfish, or we have forgotten – Without them, there would not be a goldfish world which is so colorful and so diverse.
History of common goldfish
All varieties of goldfish are man-made and it all started more than a thousand years ago by the Chinese. During that time, the Chinese bred these dull silver colored Prussian carps for food. Although they are naturally silver in color, these carps can produce red, yellow and orange color mutations.
Seeing these potentials, the Chinese started to selectively breed them to this yellowish orange coloration which looked very much like gold, thus the name "goldfish".
The first goldfish breed eventually captured the interest of the imperial family and became very popular. It was then selectively bred through generations to develop more goldfish varieties that we know now. This ancestor of all goldfish is non-other than the humble and underappreciated common goldfish.
Characteristics
Common goldfish breed does not have any distinct characteristics like its fancier descendants. There is no special growth on the head or any fancy eyes. It does not have long flowing fins or a cute rounded body. There is nothing special about common goldfish, and that is what made them common.
Being the first goldfish breed, it shares a lot of resemblances with the Prussian carp which it originated from. It has a streamlined body and a single tail, which is short and slightly rounded. In terms of coloration, besides gold, common goldfish also come in solid red, yellow, orange, black, white and a mixture.
With its torpedo shaped body, common goldfish breed is a very good and strong swimmer.  It can also grow to be really big. When being taken care of properly, it can easily get to more than 12″ in length.
Compared to other goldfish varieties, common goldfish is hardier and is more resilient in handling less than ideal environment.
Care for common goldfish
Although common goldfish is hardier, this does not mean that it does not require any care.  We do need to provide them with proper care as below:
1) Good water quality
Good water quality needs to be maintained for any fish, hardy or not. This definitely applies to common goldfish as well.  So as fish keepers, we must always make sure that our fish tank is fully cycled, with proper filtration and regular maintenance are done to upkeep the water quality.
2) Space, space and space

As common goldfish can grow to more than a feet long, it is better to keep them in a very big space such as a pond.
They require more than 20 gallons per fish for them to grow properly.
Besides that, they can be jumpers as they are strong swimmers. So if being kept in a fish tank, we should consider having a fish tank cover.
3) A balanced diet
Goldfish need a balanced diet containing protein, fats, fiber, minerals, and vitamins for them to grow healthily. Giving them a varied diet from prepared food to live food can help them to get the nutrients that they need. Be careful not to overfeed though.
The  humble & underappreciated goldfish ancestor
Due to its high availability and low price, the common goldfish breed is often looked at as the outcast of the fancy goldfish world. They are often mistreated and underappreciated because it is so cheap to just replace them…, forgetting that they are living beings too.
Common goldfish have come a long way, a more than 1000 years "way" to be more precise.  They have served the Chinese imperial family once upon a time and is the ancestor of all the fancy and expensive goldfish varieties that we know of now.
So perhaps they should not be so humble and so underappreciated, but rather deserving the same kind of care and considerations that we give to their fancier descendants. That's something that we should remind ourselves about the common goldfish.
Note: The following contain affiliate links. For more information, please visit my disclosure page.