About 3 weeks ago, I took a trip to Bangkok, Thailand. This is one my favorite cities in the world and I do try to visit it as often as I can as it is close to my country, Malaysia. I love Bangkok because of its culture, the people and of course, the food!
One of my favorite place there is the Chatuchak Fish Market, the biggest Thailand fish market for the fishkeeping hobby. This is Part 2 of my trip there.
In Part 1, I have shared a little about the location of this fish market, the best time to visit and some of the fishes that I have seen there. For a fish keeping enthusiast like me, the magnitude of Chatuchak Fish Market and what it has to offer are indeed a huge eye-opener.. and maybe a mouth opener as well.
Although this was not my first trip there, it still left me in awe. If you have missed Part 1 of my post, please click here.
Fishes are an integral part of Chatuchak Fish Market…
Fishes being an integral part of a fish market are widely available there. You can see them being sold readily bagged like these:
Or in tubs like these:

Or in fish tanks like these:

There are a lot of fish species available for sale there and you really have to check out Part 1 of my post to see more of them.
Well, we all know that the fish keeping hobby has spanned wider than just keeping fishes. There are other aquatic animals that are being kept too, and these can also be found in Chatuchak Fish Market. Oh, and let's not forget about the aquatic plants, fishkeeping equipment, and accessories.
These are the focus of this post – Part 2 of my trip to Thailand's biggest fish market.



The Aquatic Pets, Plants and Equipment
So many varieties of aquatic pets…
I noticed that one of the aquatic pets that is popular there is the Crayfish. They are being sold everywhere and come in so many colors!!

 Like the fishes, they are either readily bagged, available for choosing from the tubs and if luckier, they get displayed in nicely decorated fish tanks.
Aside from the crayfish, another type of invertebrates available here is the shrimp.  These shrimps are displayed in abundance, giving the tanks splashes of colors.
I have tried getting into the shrimp keeping hobby before but gave up after a few attempts as I never grasped the secret on getting them to stay alive. These shrimps are not cheap, mind you!
Keeping these shrimps are more demanding than keeping most fishes, well at least to me. They require very specific water parameters for them to dwell in.
So when I see all these, I was like "Wow…." and got reminded of my failures.
Oh well, perhaps one day… one day when I get my courage back, I will give shrimp keeping another try. For now, I will just look at their pictures, go "Wow" and feel sorry for myself.
Other aquatic pets that I came across in Chatuchak Fish Market are:
These are Red Eared Slider turtles. I used to call them tortoises until I learned about the difference between a tortoise and a turtle.
A tortoise dwells on land, while a turtle spends most or some of its time in the water. See, you did learn something new reading my post, right? 🙂

These are Hermit crabs. The shells you see are not theirs, but rather from some sea snails. They will claim empty shells as their homes to protect their vulnerable soft abdomens.
I only saw one shop selling them, so I am guessing that they are not so popular in Thailand.
There were also these:
Aquatic plants are in abundance here…
If you are into aquascaping, there are plenty of aquatic plants to choose from in Chatuchak Fish Market.

These are some readily bagged plants that are tied to driftwoods. The ones in polystyrene containers are mosses.
More plants available in the shops there:

And of course, the equipment & accessories for the hobby…
Last but certainly not least, are the equipment required for the fishkeeping hobby. The varieties and the number of shops selling these are CRAZY!!
Looking for fish tanks, lightings or filters? Well, no matter what kind of sizes or designs, you can find them here at Chatuchak Fish Market.
So many fish tank decorations and hiding caves for your aquatic pets to choose from.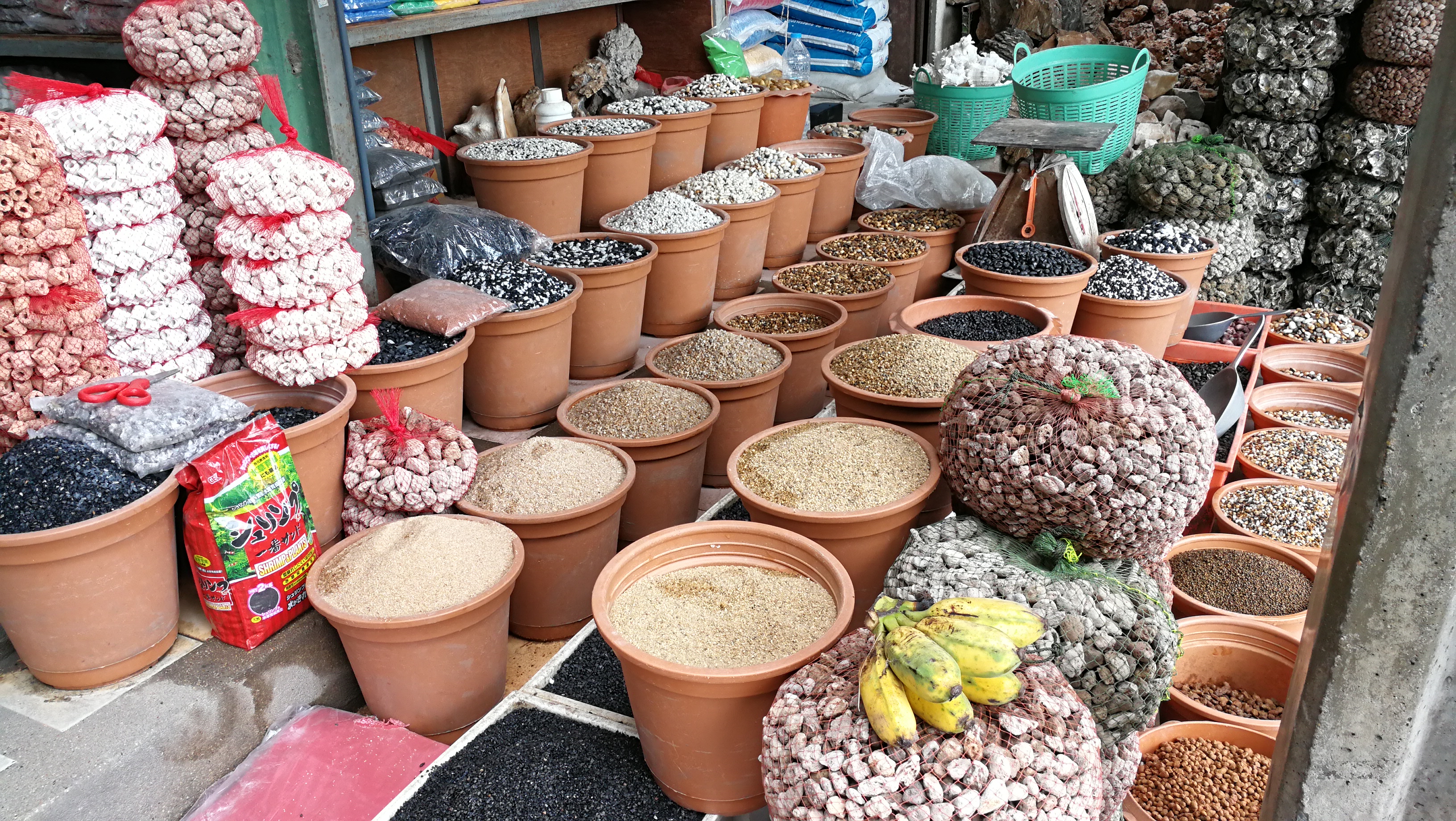 These are substrates and filter media being sold in one shop. Imagine, there are many more shops like these.
To be frank, my pictures are not doing this fish market much justice on the amount of fish tank equipment and accessories that are available there. I went into one shop which felt like a warehouse packed with all these, and I had no idea what most of them are for.
I guess I got too engrossed with the fishes and aquatic pets there, that I have neglected the equipment and accessories. Sorry…



Summary of my trip to Chatuchak Fish Market
This is Part 2 and the final part of my posts on my recent trip to Chatuchak Fish Market. As I mentioned, this wasn't the first time I have visited the place but I still get amazed by the size of it, and what it has to offer to the fishkeeping hobby.
WIth its array of fishes, aquatic pets, aquatic plants, fishkeeping equipment and accessories. there is no doubt that this is the biggest ornamental fish market in Thailand and a "heaven" to fishkeeping enthusiasts.
I am very sure I will be visiting it again on my next trip to Bangkok.
Are you planning a trip to Bangkok? Well, head over to Booking.com below for deals: